Historic Olympian Marlen Esparza
historic olympian marlen esparza
In the Fall of 2010, ELEMENT M began working with Marlen Esparza – #1 U.S. Flyweight Female Boxer of ten years  – seeing an opportunity to share her inspirational story as she pursued her dream of being one of the first female boxers to fight at the 2012 Summer Olympics London.  Following several in-depth magazine feature releases, Marlen caught the eye of CNN and Award-Winning Anchor Soledad O'Brien in March of 2011 who selected Marlen to be featured in her documentary series "Latino in America" for an hour long story titled "In Her Corner" that later aired in September of 2011 (and again in the Summer of 2012).
In addition to locating and managing many media features that followed for Marlen,  ELEMENT M also facilitated all marketing and endorsement opportunities in 2011 as the 2012 Summer Olympics London approached securing Marlen as one of Coca-Cola's "U.S. 8-Pack Athletes," one of three female Olympic hopefuls worldwide selected to represent COVERGIRL, one of three U.S. Olympic hopefuls along with Lebron James and Lolo Jones to be a part of McDonald's Olympics ad campaign along with being sponsored by Nike and included in their Title IX 40th Anniversary commercial campaign.
In 2012, Marlen became the first female U.S. Olympic Team Trials Winner in history for the Flyweight Division and then the first U.S. Olympic Female Boxer in history to qualify for the 2012 Summer Olympics London.  Capitalizing on her history making achievements both in and out of the ring, ELEMENT M obtained numerous media features for Marlen leading up to the 2012 Summer Olympics London with some of the most prestigious national media outlets including in-depth profiles with VOGUE, PEOPLE, The Atlantic, TODAY Show and many more.
At the 2012 Summer Olympics London, Marlen was the first U.S. Olympic female boxer in history to medal receiving Bronze.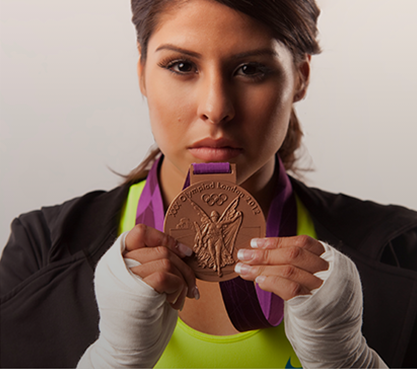 Congratulations on the success that Marlen had at the Olympic Games as you played a big part on her team and it was incredible to see her in various commercials and ads throughout the country.
-Eddie Yoon, USA Boxing
Director of High Performance &Events